<![if !vml]>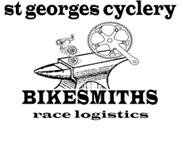 <![endif]><![if !vml]>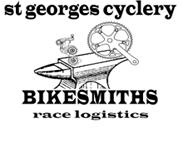 <![endif]>           st georges cyclery 
              BIKESMITHS
                 race logistics
CUSTOMER BIKES    ROOFRACKS    LINKS    CONTACT US         
Welcome to a page dedicated to CLIFF SHRUBB – Master Frame Builder!
Cliff has been building frames for more years than he cares to remember, having worked at many and various shops, and for the last 10 years has been building frames at the request of anyone that can track him down. Cliff builds only in steel and he not only designs the frames to your requirements, he also keeps you involved with progress all along the build.
Cliff builds in the new Reynolds 953!
Since building the Columbus Ultra Foco for me, my brother decided that he would like to try the new Reynolds tubing – 953, and who better to build it for him than the one and only Cliff Shrubb. There was a queue for a new frame from Cliff – he had the audacity to build a frame for himself, also in 953. (The first frame Cliff has built for himself in over 25 years!) 953 is a stainless steel tube set and Cliffy complained about how hard it was to work with and how it blunts all his cutting tools, but nevertheless two frames were produced, a road frame for Cliff, completed with the new SRAM groupset, and a track frame for Jeff, (with brake bridge, for single speed road use). The problem with the track frame was that Jeff decided to go "Old School" and requested a lugged frame, and as 953 is in new metric sizes, with an oversize downtube, this posed a problem! Cliff had to hunt around for lugs, having to make some fit, although the seatpost/top tube lug was a major problem until Cliffy found that a tandem lug was the right diameter, but needed to lose some part of it. A bit of cutting and filing made the perfect lug and Cliff was able to produce the required, fully lugged frame. Paint was again left to David Crowe of Colour-Tech Resprays (01322 555549), with Cliff's frame being finished in 'Battleship Grey', and Jeff's in plain Gloss Black, with Gold lug lining. David Crowe is one of the few sprayers who is prepared to take the time to do lug lining, and the results were excellent, and with gold Cliff Shrubb decals the frame looks superb.
<![if !vml]>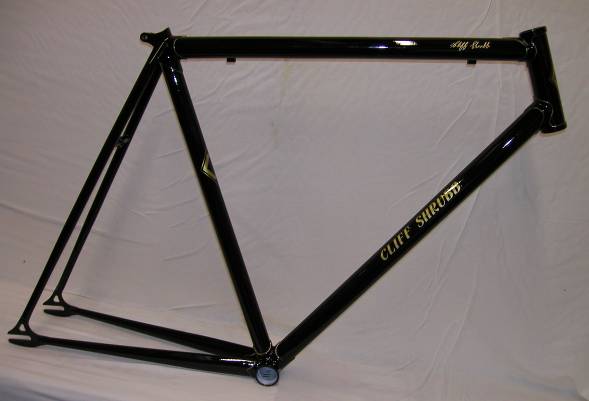 <![endif]>   <![if !vml]>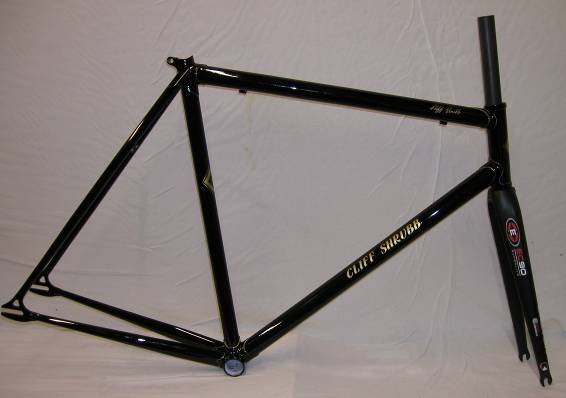 <![endif]>
The fork is a full carbon Easton EC90 Superlite, one of the lightest available, with a Token sealed headset. Keeping the bike sleek and clean was the plan, so it was decided to keep as much of the equipment as possible, black. Cinelli Solida bars and Stem, carbon Campagnolo Record brake levers, and black Easton bar tape took care of the front end. Stopping was left to the really excellent Mavic brakes, (lighter than the new Record skeleton brakes!), in black of course. BB and cranks are Campag Record, with a TA single chainset, again all in black. Seating arrangements are a Pyrotec seatpost topped off with a Selle Italia Era. (Jeff is a vegetarian, and uses nothing leather, so saddles are hard to find, but lots of Selle Italia are covered in Lorica, a synthetic material also used in making Sidi shoes, so another problem taken care of!) Black anodized Egg-beater pedals finish off the drive train. Wheels are black Mavic Open Pro, laced with silver spokes onto SystemEx double sided hubs, for fixed and freewheel. Tyres are the new Michelin Krylion carbons.
     <![if !vml]>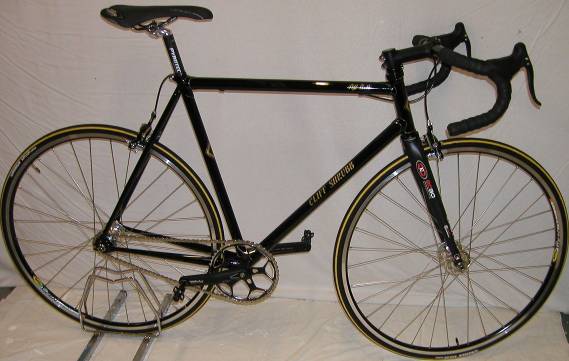 <![endif]>  <![if !vml]>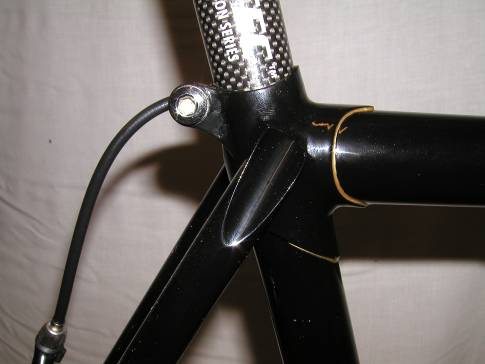 <![endif]>
     <![if !vml]>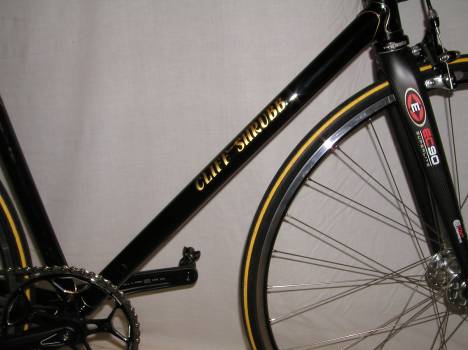 <![endif]>  <![if !vml]>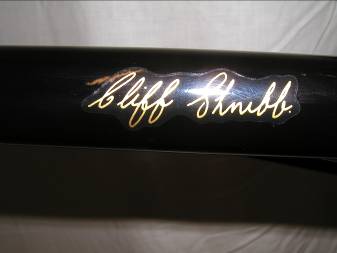 <![endif]>  <![if !vml]>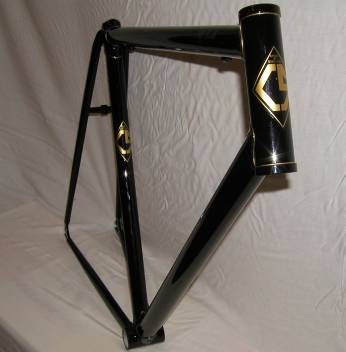 <![endif]>
The completed bike looks stunning and doesn't get ridden too far without someone stopping Jeff to be able to take a closer look at the bike. The pictures do not really do justice to Cliffs work, but rest assured it is perfect. (Jeff almost didn't get it sprayed, he was just going to have it polished and lacquered, to show off the workmanship!) When it does get going it rides and handles just the way it was designed to do, Thanks Cliff.      (Below the bike is pictured at Bike Plus in Croydon, photo by Paul Smith)
                             <![if !vml]>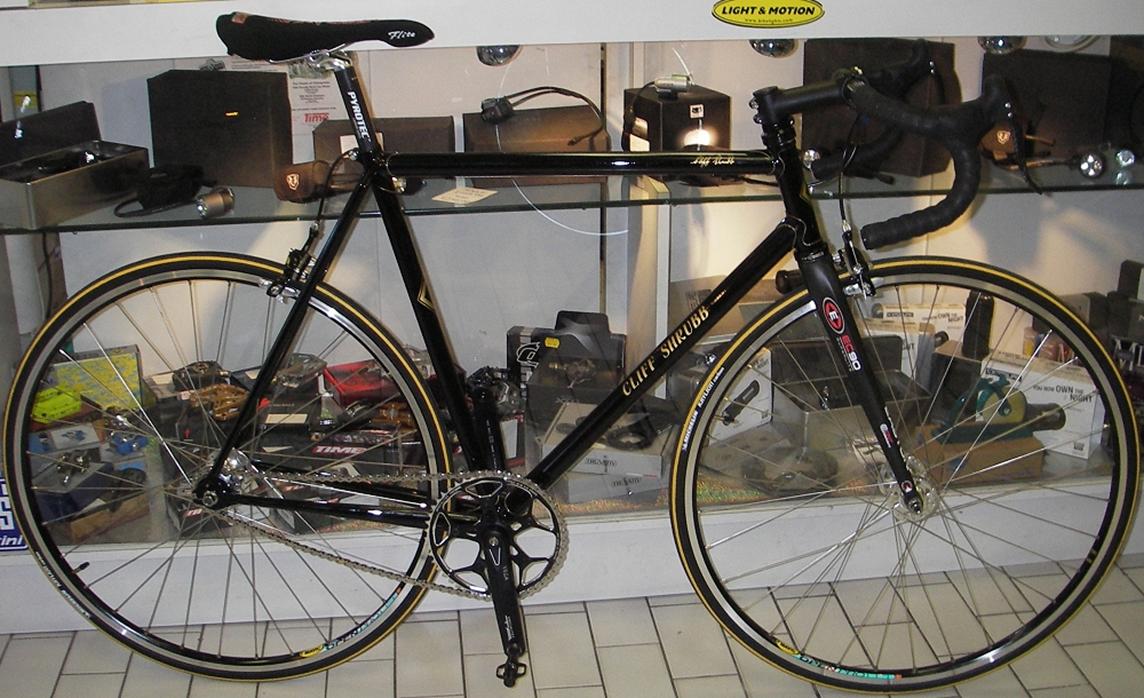 <![endif]>
 Columbus Ultra Foco with full carbon Muscle rear end.
 Recently, at the request of me, Steve Wright, Cliff was persuaded to build a light steel frame (Columbus Ultra Foco) with a full carbon rear end. We chose the Columbus Muscle rear end with the full carbon Super Muscle fork, to produce a light, but stiff, fast handling frame. Cliff designed and built the frame's main triangle and then built special jigs to ensure that when the carbon rear end was glued in place, it was in perfect track. Paint and graphics was left to David Crowe of Colour-Tech Resprays (01322 555549) who did an excellent job with the pearl white finish, not an easy colour to spray! The bike was built up with Campagnolo Record Carbon Ergo's, Record Carbon front and rear Mech, Record differential brakes, Record Carbon seatpost, Record 10 speed chain, FSA Carbon Pro Team Chainset, and the very good Planet X Pro Carbon 50 wheelset. Pedals are Time Impact Magnesium, bars and stem courtesy of Cinelli, San Marco Era Pro saddle, Specialized E-cage bottle cages and ITM bar tape.. The completed bike, including pedals and bottle cages, weighed an extremely light 17 pounds!! The ride is exactly as I wanted it, and I have taken it to California to ride the same roads as Lance and his boys!  Below are some pictures just after its safe return, sorry about the dirty bar-tape.
<![if !vml]>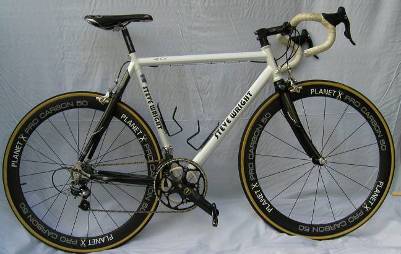 <![endif]>  <![if !vml]>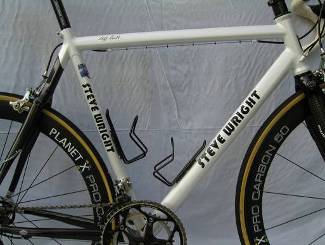 <![endif]>     <![if !vml]>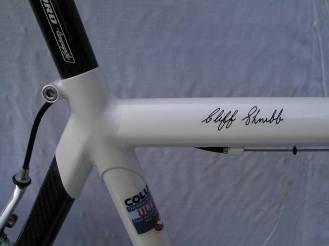 <![endif]>    
<![if !vml]>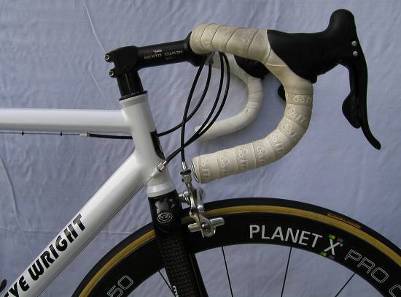 <![endif]>  <![if !vml]>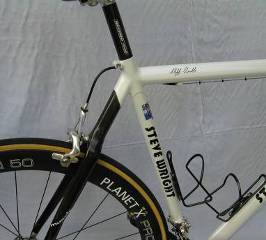 <![endif]>  <![if !vml]>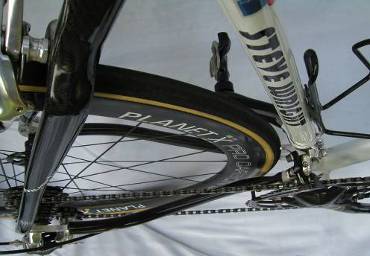 <![endif]>  <![if !vml]>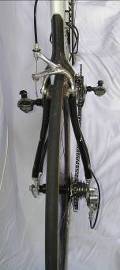 <![endif]>
            <![if !vml]>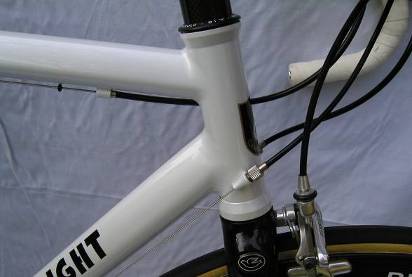 <![endif]>               <![if !vml]>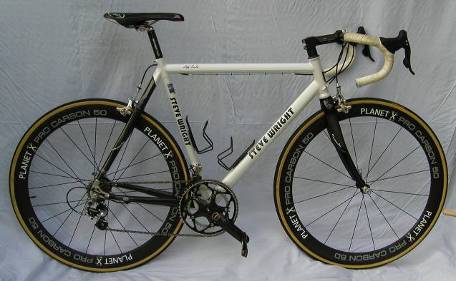 <![endif]>